When it comes to destinations for long weekend getaways in the western U.S. with a healthy combination of active pursuits and a dose of luxury, there are lots of usual suspects. For west coasters, it's Palm Springs, wine country, Tahoe, Santa Barbara, Bend, Hood River, and Whistler. For mountain-staters, it's Park City, Jackson Hole, Sedona, Telluride, Vail, Santa Fe, and Bozeman, among others.
Perhaps because it's a real working city and not just a vacation destination, Tucson often gets left off these lists. However, after a long winter of unproductive skiing and still waiting for a true summer in San Francisco, my fiancée Sylvia and I decided to make the easy trip south for a long weekend combining two of my favorite pursuits—trail running and biking—while rejuvenating and relaxing one of the area's premier resorts, the The Westin La Paloma Resort & Spa.
After a first night of restful sleep and a leisurely room-service breakfast, we walked outside to a blast of hot, dry air — definitely not in San Francisco anymore! As the mercury climbed above 90, and realizing that we had missed the early morning window for strenuous exercise in the desert, we decided to drive up the scenic Catalina Highway to Mount Lemmon, where we knew the air would be much cooler at 9,000 feet—-6,000 feet above the valley floor.
The 30-mile drive was gorgeous, and offered a dramatic representation of a variety of life zones as we climbed from the Lower Sonoran zone up, up and up, steadily gaining altitude and moving from the domain of the saguaro cactus to desert grassland, and then on to juniper forest, ponderosa pine, and finally – aspen and fir trees at the summit. Here at the end of the road on an early May afternoon, the air was a comfortable 66 degrees.
Since we were already at the top, all trails led down. From a lookout near the peak the desert floor far below was visible, and we ambled a mile or two down the ridge on the Mount Lemmon Trail. At the end of the fire road, Sylvia elected to return and explore the summit area and aspen groves, while I turned onto a single track trail and hoofed it on a run/hike into the amazing Wilderness of Rocks.
As I descended into this fascinating landscape, new hoodoo formations appeared around every corner, with nary a person in sight. The trail continued down, eventually connecting with the eponymous Wilderness of Rocks Trail, which wove through countless evocative rock formations and balanced hoodoos as I turned back toward the mountain crest.
Stopping for a photo, I almost bumped into an interesting guy who was exploring the area and looking for a good camping spot. He was an ultralight hiker, sporting Vibram Five-Fingers and a small pack with only a Thermarest, and he turned out to be the only person I saw on the trail. Later, struggling to maintain even the appearance of a jog as I climbed up steep switchbacks to the ridge on the Lemmon Rock Trail, I stopped to catch my breath and enjoy the evening light on the crags.
That evening, famished, Sylvia and I popped into the festive Guadalajara Grill for some tasty Mexican food, served amidst a raucous Friday-night party atmosphere. While the restaurant was generous with the margaritas, it was really the homemade salsa, mixed by hand right in front of us (dialed to our taste – medium hot), that really stole the show. That, and of course, the chimichangas – really, who doesn't love them?
A great day in the outdoors followed by some hearty Mexican food made for a perfect introduction to Tucson. A short dip in our private hot tub outside our suite at the Westin completed a perfect first day – clearly, 4 days were not going to be enough.
Following a friend's recommendation, I made my way early the next morning to Fair Wheel Bikes near the University of Arizona campus. There, Max, the uber-helpful store manager, set me up with a sweet Specialized Tarmac carbon road bike, and even took the time to fit the bike to my frame, with all the proper saddle and stem adjustments, along with pedals to go with my road shoes. He even threw in some free water bottles to boot.
From there, I made my way (bike in the backseat of the rental car) to Le Buzz, the coffee shop and roadie hangout on the corner of Tanque Verde and the Catalina Highway — the traditional start to the Mount Lemmon hill climb. Yes, I was determined to ride up what we had so easily driven up the day before. The road is a true road bike classic, especially in a place like Tucson, which is easily as cycling-mad as more well-known meccas like Boulder or San Francisco. Everywhere I went I saw cyclists out and about, even on broad strip-mall boulevards, and even in 95-degree heat. But the Mount Lemmon climb was a classic, and I needed to check that box.
I won't bore the reader with all the gory details, save that I made solid progress up the well-graded route for several hours before the increasing altitude, increasing headwinds, and decreased energy reserves began to take their toll. Still, I managed to make the summit with only a modicum of cramping, and enjoyed the long cruise down (though with plenty of headwinds and a few painful interim climbs near the top).
Total stats for the ride were 65 miles and 8,300 feet of climbing — definitely a solid day's work in the saddle, though within reach of any fit weekend warrior. Arriving back at La Buzz, I exchanged (what I thought to be) knowing glances with a few other cyclists still lingering in the parking lot.
Meanwhile, Sylvia had explored the property at the Westin, and dropped in to take an outdoor yoga class before making her way poolside for some much-deserved relaxation. The Westin has an impressive array of pools and poolside service, including a swim-up bar, towel service and comfortable chaise chairs. For families there is an all-ages pool and waterslide area, while we stuck to the adult pool for (slightly) more peace and quiet.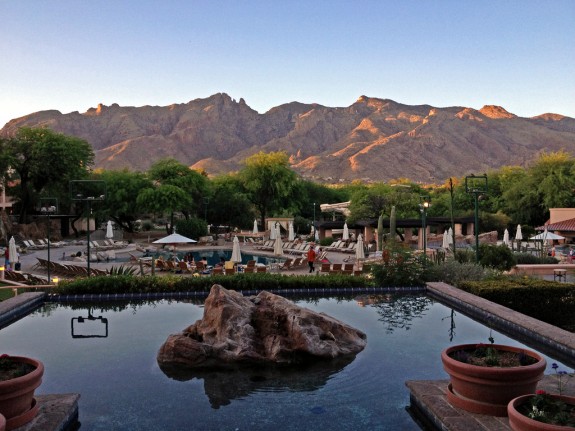 As the sun move low in the sky, we drove a mile or so up a nearby road, gaining a bit of elevation as we approached the foothills of the Catalina Mountains. It was almost time for the rise of the so-called "super moon," a unique celestial occurrence when the moon reached its nearest orbital pathway to earth, appearing 30% larger and brighter than normal. From our road-end spot, shared by no more than 20 other onlookers, we watched as the moon rose in the east over Tanque Verde Ridge in Saguaro National Park. It was shockingly bright, like a giant, consistent flare lighting up the evening sky, creating unexpected shadows on the ground and eliciting oohs and aahs from our nearby moon-watchers. Something about seeing the moon rise over desert mountains…
After experimenting with every slow shutter speed setting I could, we took a recommendation from the hotel and made our way to Tavolino, a nearby Italian restaurant of some local repute. The place was absolutely hopping on a Saturday night, yet due to its large size we were easily able to make a last minute reservation. The service was friendly and prompt, the wine choices varied, and the fresh bread with pesto dipping sauce started us off on the right note. Despite the promising start, our food was not special enough to merit mention here — perhaps the one time in Tucson where our coastal snobbery overshadowed the experience. Or perhaps it's just that you really don't come to Tucson to eat great Italian.
It would really be a shame to visit Tucson and not at least spend a few hours in the true desert among the saguaros. With that perspective in mind, on Sunday morning we drove out to the western unit of Saguaro National Park, just west of the city and an easy 30-minute drive from the hotel.
The road enters the park, and suddenly you are surrounded by cactus forest and undisturbed desert flora. Turning off the tarmac onto the gravel Golden Gate Road, we suddenly found ourselves all alone as we cruised through the park, stopping occasionally to check out particularly impressive saguaros, flowering prickly pear, and cholla. In this western section of the park, the mountains are lower than in the eastern section, but the trails are considered more scenic and varied, and within easy reach.
Though the heat of the day was onsetting, we still hiked a few miles along the Bajada Wash and up to the Valley View Trail, where there's a vantage point of the low mountains to the east and the desert valley to the west. We didn't see any people (even on a weekend just outside of a major metro area), but we did see plenty or birds and lizards. The Sonoran Desert here is clearly an extremely harsh environment, but it's surprisingly lush up close, with a huge variety of plants growing out of the hot, dry soil. After a mile or two, we were officially cooked, and looking forward to some poolside time to cool off and relax.
Our suite at the Westin was enormous, complete with a large living room, fireplace and dining table, refrigerator/bar, extra half-bath, a huge master bathroom (with tub, shower and walk-in closet), king bed, and a private patio with jacuzzi. It offered the perfect respite from the midday heat, and hastened our recovery from any and all active pursuits.
In addition to the standard resort amenities, the Westin also has an Elizabeth Arden Red Door Spa on property, just adjacent to some outstanding tennis courts that beckoned me (to no avail). Sylvia and I headed over to sample the signature Red Door Massage, which their website described as incorporating "essences of rose oil, shea butter cream, facial acupressure and foot reflexology for head to toe balance and relaxation." Our massage therapists were both excellent, working out all the kinks in just the right way – clearly these were real professionals, not the typical hotel massage contractors who moonlight for various properties. We emerged after an hour in a blissful state of relaxation and energized for the evening.
As it turned out, we needed all that pent-up energy to prepare for the fantastic meal we shared outdoors at the on-property Azul Restaurant and Lounge. Dinner turned into a festival of food, starting with pork belly sliders, mozzarella-stuffed arancini, a seafood tart, sizzling calamari, and a giant Caesar salad. From there, we gave ourselves up to our inner carnivores, sampling the filet and ribeye steaks on offer. Finally, we managed to save room for a perfectly moist chocolate torte and some delicate beignets. The food at Azul was beyond expectations for a resort restaurant (so often just average at best), and came with a friendly and refreshingly down-to-earth staff.
On our last morning, I was determined to explore one of the nearby desert canyons before the heat became too intense. It didn't seem like a smart decision when my alarm went off at 6 am, but by 6:20 I was hiking up the Finger Rock Canyon Trail, only a couple miles from the hotel. The air was cool (60 or so) and perfect for walking, and as I entered the Pusch Ridge Wilderness, I was treated to a cacophony of bird calls and other sounds of the day coming to life in the desert.
Hiking along the canyon bottom, the flora was surprisingly green and lush, with a mix of saguaros on the hillsides and thirstier plants inhabiting the bottom of the dry wash. Soon the last of the housing developments were far behind, and I felt all alone in the wilderness…and yet, I was only a mile or two from civilization.
The trail began to climb higher and higher up the cliffs on the side of the canyon, and eventually I passed the saguaro zone at around 4,000 feet as views opened up. It really felt like I could be hiking in the Grand Canyon, with amazing views of massive rock faces, mountain ridges…and yet I was only a few miles from the city, in sight down below.
At 5,000 feet I crossed into a transition zone with a combination of grassland and gorgeous juniper forest, which got thicker and thicker as I hiked above 6,000 feet. The air was fresh, and even when the sun started blazing as it appeared over the ridge, the temperature remained comfortable. All seemed right in the world surround by nature and no one else—an increasingly rare commodity so close to the urban areas where so many of us now spend most of our time.
I reluctantly turned around and began to jog back down to civilization, but not before stopping at a rock outcropping, taking off my shoes, sitting down on the ledge, and hanging my legs out over the airy canyon below. It was a moment when I imagined what it might be like to live in Tucson and do this kind of thing every morning before work (or every evening for those of us who really, really aren't morning people), instead of hitting the gym or squeezing in the typical routine workout. Luckily, Tucson is accessible enough to make this weekend getaway destination potentially habit-forming, which wouldn't be a bad thing. Not bad at all.
Practically Speaking
Tuscon is served by most major airlines with direct flights to major hubs around the country. If flying direct seems expensive, it tends to be much cheaper to fly to Phoenix and drive the 2 hours, or connect through Phoenix for a short hop flight.
The The Westin La Paloma Resort & Spa is a great choice for an attractive location at the foot of the Catalina Mountains and within easy reach of Saguaro National Park and the Mount Lemmon Highway, as well as downtown Tucson and the University of Arizona campus, 15 minutes south. Rates for rooms and the Red Door Spa can be found on their website or by calling 1.800.937.8461.
Reservations are recommended for both spa appointments at the Red Door Spa and Azul Restaurant.
An event calendar showcasing what's happening in Tucson is available on the CVB's website.
Article and photos by Josh Steinitz, originally written for NileGuide