The skies darkened and the rain started. Soon, it was coming down so hard that it sounded like a jet engine roar on the roof. Then came some cracks of lightening, which sounded at increasing frequency until it felt almost continuous. Fortunately, while the 30-year storm raged outside, my wife Sylvia and I were comfortably relaxing in our spacious and well-decorated villa at La Petite Dauphine Guest Farm, a luxury boutique property in the Franschhoek ("French Corner") wine region of South Africa about 75 minutes north of Cape Town.
Our travels around the Western Cape of South Africa started with a drive from Cape Town's airport northeast toward the wine country. Passing through Stellenbosch, perhaps the most famous of the country's viticultural regions, the scenery quickly became spectacular, with jagged mountains rising above rolling hills of vineyards on wine estates — a more visually stunning landscape than the wine country of our home in Northern California. As we created the pass between Stellenbosch and the valley connecting Paarl and Franschhoek, we were treated to a truly panoramic view of the broader region. Heading up-valley past a series of wine estates and through tunnels of eucalyptus, we soon reached the town of Franschhoek itself.
Like classic walkable wine country towns the world over that are variously described as "cute", "charming" or "quaint", Franschhoek fits into that experience in some ways. However, it adds a uniquely South African twist with a French overlay, as it was established by French Huguenots in the 17th and 18th centuries, escaping from the motherland to find religious freedom. We found locally-inspired dishes like ostrich with sumac, Cape Malay trout, or beef bobotie pancackes at places like Ryan's Kitchen, while also sampling classics like springbok loin and amarula chocolate mousse at La Petite Ferme, an inn and restaurant with spectacular views overlooking the valley.
The approach to La Petit Dauphine after passing through the entrance gate was classically scenic, with a lane lined with white roses cutting through a vineyard, and with rugged peaks rising straight ahead at the head of the valley. We were greeted by Stefan, the accommodating GM of the property, who gave the basic lay of the land. Given his knowledge of the surrounding region, he effectively served as our concierge as well, providing maps and tips about the best wineries to visit, the best trails to hike, and walking us through a variety of dining options in and around town. While waiting for our villa, we enjoyed a great lunch on the patio at Cafe Bon Bon, the property's on-premise restaurant.
Arriving at our private villa, we were incredibly impressed with the tastefully-designed and large main room, incorporating both the sitting room (with fireplace) and bedroom in one, along with a very large bathroom with uncluttered lines and attractive stone colors. Outside our room, we had a plunge pool inset into our private deck, and enjoyed a view across a small lagoon to the rocky mountains beyond the vines. After a bit of relaxing in the afternoon, I attempted to burn off some food and wine calories with a trail run through the rugged terrain of the Mont Rochelle Nature Reserve, accessible from the top of Franschhoek Pass above town.
Knowing the rains were coming, we explored the town the following morning, and after lunch at La Petit Ferme, the skies indeed opened up. As it turned out, a massive storm system out of the southern Indian Ocean was moving across the Western Cape, and the  area was hit with record rainfall, leading to localized flooding, washouts and landslides, and quite a bit of natural destruction. Luckily, we were hardly roughing it. Even a direct lightning strike on La Petit Dauphine didn't set us back too badly (other than waking us with a massive crack), and the generator kicked on power only seconds after the mains went down.
The next day the high winds, thunder and lightning gave way simply to solid, steady rain, and we resolved to sample some of the region's finest wineries. Overall, we were highly impressed with both the quality and value of the local varietals: tastings were friendly, non-stuffy affairs, amazingly affordable, and different and unique between each locale. In particular, we noted that a number of blends and uniquely produced varietals were available, many in forms not typically seen elsewhere—Pinotage, unwooded Pinot Noir (resembles a rosé), Shiraz Viognier, to name a few—along with quality chardonnays, sauvignon blancs, and cabernets. We particularly enjoyed La Motte, Haute Cabriere (with gorgeous views over the valley), Grande Provence, and Chamonix.
With one final day in the area, we moved from luxurious to truly opulent, spending a night at the amazing La Residence, just on the other side of town in Franschhoek. With only 11 rooms and a small number of private villas, the place exudes the ambiance of luxury, from the breakfast spread to the chandeliers and flower arrangements to the obsequious staff. It's not exactly the relaxed luxury of La Petit Dauphine, but for those who want no shred of doubt that they're in a 5-star property, it's a perfect fit.
Each room is individually decorated in impeccable fashion around a specific theme that may be regional (Indian, African, etc.) or natural (hibiscus, frangipani), and accoutrements of the room have been thought through down to the last detail — each room (and bathroom) is really a sight to behold. At dinner, the sommelier offered helpful suggestions on wine pairings, and even followed up after we left to inquire about purchasing some muscat we enjoyed on our behalf.
With the 48-hour storm finally moving on the next day, we set out to visit La Residence's sister property, Birkenhead House, located about 90 minutes away in the coastal town of Hermanus, billed as the whale-watching capital of South Africa. Birkenhead shares the same commitment to style and luxury, but with a more relaxed seaside ambiance, set on cliffs just above the pounding surf.
With a whitewashed exterior, it's a fine place to relax and look for cetaceans from the terrace, and to enjoy a glass of wine and a nice meal while catching the sunset over the ocean. As an added bonus, it's possible to walk from the property along a pretty coastal path all the way into the main part of town (about an hour to an hour and a half), where the hotel will pick you up by private car. Unfortunately, due to the heavy rains and associated runoff, it was not an ideal time to look for the famous southern right whales, though we did catch a glimpse or two.
After our sybaritic interlude, it was time to get back out into the wild. A four-hour drive east to Mossel Bay (the start of the famous Garden Route) on the N2 highway brought us to Gondwana Game Reserve, a place that enjoys a unique place among the plethora (more than 2,000 at last count) private game reserves in South Africa. With claim to being the only reserve where you can view the Big Five amidst the native fynbos vegetation—a floral kingdom that exists only in coastal South Africa—the reserve is a worthwhile stop if you're planning on driving the Garden Route.
While Gondwana is relatively new, and thus still building up the number and diversity of species in the 11,000 hectare property, it's also experimenting with a new model for conservation and tourism. Alongside wild-roaming game, safari guests will see vacation homes and homesites (with water and electrical) waiting to be built upon.
The landscape does indeed offer spectacular scenery, with rolling hills of reclaimed fynbos set in front of distant mountains, though some visitors may feel the experience a bit less "wild" than they'd like with the hybrid model of home development/nature reserve. Though, given the cost and difficulties of managing a pure nature reserve for tourism, it's possible that housing development is what makes it possible.
For whatever reason, other reserves don't seem to make the same tradeoff, and as a result feel like a more authentic experience. However, if you're on the Garden Route and in search of the Big Five and a comfortable 4-star experience, Gondwana definitely is worth a day or two. The buffalo may be quite tame and inside a fenced area, the cheetah may have GPS collars on them, but they are still real animals in a part of the world where free-roaming species have long since been exterminated from their native range.
And, since Gondwana is only a half-hour from the town of Mossel Bay on the coast, it's easy to break up the safari experience with something else; indeed, during the midday break we drove into town and hiked part of the Cape Saint Blaze trail along the rugged coast, and then enjoyed some fish & chips on the waterfront before returning to Gondwana for our evening game drive.
Our final stop was to visit that many consider the crown jewel of South Africa, the Mother City—Cape Town. Coming from San Francisco (approximately the same distance north of the equator as Cape Town is to the south), we were prepared for some similarities, but it really was uncanny. Rugged hills and mountains, spectacular views, coastal scrub vegetation, a diversity of ethnicities with fantastic cuisine available, a working port, and wealthy suburbs with stately homes and gardens.
The Alphen Boutique Hotel in Constancia, just on the other side of Table Mountain from Cape Town, is housed in a completely refurbished Cape Dutch colonial-era building amidst lush gardens, green lawns, and patio courtyards. Our room's interior was an interesting contrast to the traditional exterior, with contemporary funky touches (a see-through bathroom door, and a desk chair in the shape of a woman's behind, to name a few), and came with the most comfortable bed we found on our entire trip. Its location means that you're just a 15-minute drive from Cape Town proper, but can enjoy a quieter, more suburban setting, and in a historic area where the region's first vineyards were planted more than 350 years ago.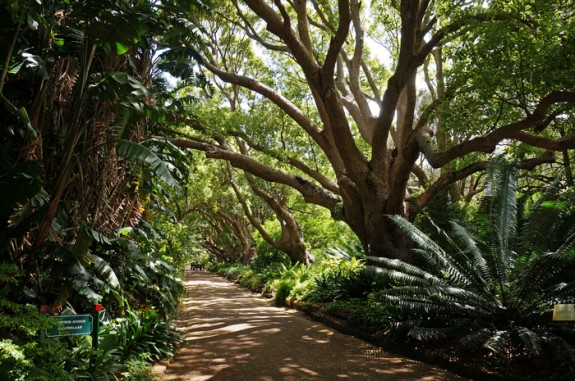 It's also easy to access area attractions like the famous Kirstenbosch National Botanical Gardens on Sir Cecil Rhodes' former estate—we found a visit to the gardens a worthwhile afternoon, exploring the unique vegetation of the Cape floral kingdom (the world's smallest) in a scenic setting beneath the slopes of Table Mountain, though it was a bit unfortunate that the gardens were not as well-kept as one might expect for such a signature attraction. Drinks and dinner at the 5 Rooms Restaurant at Alphen was also memorable, with service and food at a world-class standard.
On a gorgeous spring day, we set off to explore the Cape of Good Hope Nature Reserve on the rugged peninsula jutting south into the Atlantic from Cape Town. Unfortunately, due to the recent torrential rains, the Chapman's Peak coastal road was washed out, so we headed south via Fish Hoek and Simon's Town.
Walking up to the lighthouse atop Cape Point, we were reminded of an even more rugged version of California's stunning Point Reyes, with big surf and seabirds and wind-whipped beaches backed by steep coastal cliffs. It was a truly spectacular place, even if the actual "Cape of Good Hope" sign itself is a bit overrun with tourists on buses taking snapshots. Just hike a bit down any trail to escape the hordes (and try to arrive early).
Dinner was at Paranga Restaurant, a hip and happening spot right on the main drag of Camps Bay. It would be right at home in South Beach, Miami or Venice, California — a combination of young fashionistas and older tourists sipping cocktails and eating freshly prepared food just steps from the beach park and surf.
For our last day in Cape Town, we moved on to Kensington Place, a fantastic boutique hotel set high up in the Gardens residential district above the main city, but within easy walking distance down the hill to all the main city attractions. In contrast to the tradition and luxury of Alphen, Kensington is all about style, design, and personalized service.
After a tasty outdoor breakfast, the manager gave us detailed recommendations for a walking tour of the city, which proved on the mark (example: cut through the back entrance of the Mount Nelson Hotel, walk through it and out to the front to access the Company Gardens, the city's signature downtown park).  After a lunch at Pepénero (the cajun chicken pasta was outstanding), we ambled back towards the V&A Waterfront, perhaps Cape Town's most popular attraction, but found the hyper-tourism and shopping mall overload a bit too much for our taste.
Before dinner, I decided to get some exercise and headed up from Kensington Place to hike Lion's Head, perhaps the city's signature viewpoint. Easily accessible from the hotel, the views were jaw-dropping almost from the outset, with a panorama extending from the City Bowl and downtown across the face of Table Mountain and down the coast to Camps Bay and beyond, along with the 12 Apostles (a series of rocky pinnacles along the west face of Table Mountain).
After a short while, the trail steepened and became more rough as it corkscrewed around the peak, ultimately heading almost straight up over some ladders and small cliffs before emerging on the summit plateau. There, a wide swath of Cape Town locals and tourists were gathered and taking in the 360-degree view. To complete the visual, the famous "tablecloth" of fog was coating the top of Table Mountain — wow.
After a tasty dinner at Societi Bistro and a restful night at Kensington Place, we awoke early the last morning to catch the first cable car up Table Mountain, just a short drive up the hill from the hotel. Again Kensington's manager was spot on, as he had purchased our tickets in advance, saving us from a long line that had already assembled at 8am.
After a surprisingly fast ascent (it's also hikeable if you have more time), we were suddenly atop the mountain's plateau, which was already ripping with wind in the early morning. Luckily however, it was perfectly clear, and we spent half an hour walking around the paths and admiring the various lookouts from all directions. The environment up there was clearly harsh, but the fynbos plants were perfectly adapted and hardy. As we seared the view into our minds on our last day in South Africa, we resolved to return to Cape Town again for weeks, months, perhaps even a year. In our accounting, The Mother City might be the coolest city around.
Article and photos by Josh Steinitz, originally written for NileGuide