The Portuguese pilot chatted amiably over the radio as our small plane banked around for a final approach. As we descended toward sand dunes and scrub brush, he explained why he left the air force for a more relaxed lifestyle. Mozambique was relaxed, good for his family, his wife had a job she enjoyed, he liked flying small planes, and the country was on its way up. The argument was strong enough to have him pack his bags and move from Europe. Over the course of 11 days in Mozambique, we came to appreciate that the country is most definitely a haven of opportunity for travelers, and a select group of lodges and resorts are starting to take advantage of it.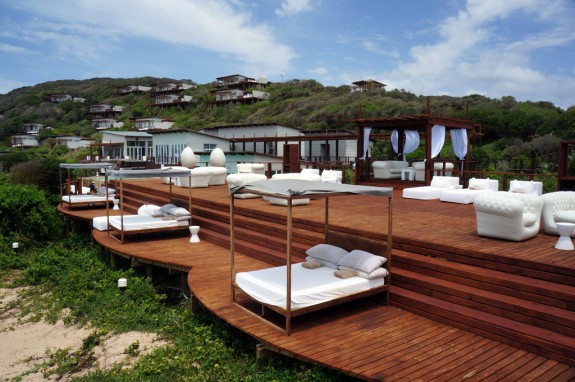 No doubt about it—the country can be quite rough around the edges. And sometimes rough even in the center. Unsurprisingly for a country still recovering from 20 years of civil war and decades of post-colonial poverty, Mozambique doesn't yet have its systems—marketing, services, infrastructure, etc.—dialed for western travelers.
As a result of these factors, and many more, it's not usually the first country in Africa that travelers visit, nor does it compete side by side for mindshare with Kenya, South Africa, or other destinations that have been icons on the jetsetter hit list. However, the tradeoff for dealing with the occasional visa snafu, delayed flight, or other standards of African travel are a chance to experience a truly spectacular country, with friendly people, some fantastic places to stay, and a chance to support a new, hopefully sustainable, development strategy.
After the seemingly endless flight from California, my wife and I made our first stop at the White Pearl Resort, one of the top resorts in the country, and with its eyes clearly set on reaching a world class standard in the most unlikely of places. After a short 45-minute flight south from Maputo, we landed on a rough runway being reclaimed by the grass. From there, a 40-minute drive via SUV over sandy tracks brought us to Ponta Mamoli, and out of nowhere, the luxury of White Pearl appeared.
After a friendly greeting and tour from managers Jeremy Clayton and Joanne Rose-Innes, we settled into our beautiful chalet, set amidst the green hills overlooking a wild, endless beach. Tastefully decorated in a style described as "beach chic", our room came complete with an enormous king bed, outdoor shower, private deck and plunge pool, and views of the Indian Ocean. A private butler was assigned to us, reachable by cell phone anytime, and the public guest areas were only a short walk down the boardwalk.
The space mixed privacy with accessibility in a way that many resorts struggle with, usually erring too far on one side of the other. Likewise, the design blended into the hillside in a way that made the beach and forest still feel wild and remote, rather than developed and radically changed.
During the days (and after a full day of good solid sleep), we generally were out and about for part of the time, scuba diving, whale and dolphin watching, visiting the spa, having lunch on the terrace, or going for a walk or run down the beach. Other times, we simply luxuriated in our room or on our deck, relaxing to the sound of the waves or the occasional gentle rain. Meals were of a surprisingly high quality given the relative remoteness of White Pearl's location.
Above all however, several things really stood out for us about the White Pearl experience relative to the typical 5-star beach resort.
First, the friendliness of the staff (Lorenzo, Roberto, Aderito, etc.). Many travelers will know that for some reason only partially explained by sharp relative disparities in economic circumstances, many high-end beach resorts in remote destinations seem staffed with surly, aloof employees (see: Bora Bora). That's most definitely not the case at White Pearl, where guests are greeted with friendly smiles and a willingness to help, along with true conversation and insight.
Second, it's rare in this day and age to find a luxury experience like White Pearl that's not packed side by side with other developments and thousands of sun-worshippers. Perhaps it was the unseasonably cool and drizzly weather we experienced, but the area retains its wild feel, and I didn't see another soul during a 12 mile run along the beach — just thousands of ghost crabs and a lone antelope who strangely popped out of the brush onto the sand.
Third, the property itself is beautiful, and not bounded by the standard beach resort architecture of a single "big house" public area with guest chalets alongside. Instead, the property flows around the dunes and hills, with multiple terraces, lounge areas, pools, dining and bar areas, and activity areas. It's fun to just wander around the place, with the quality of design and style unusual given the landscape and location.
Lastly, we were lucky enough to visit a nearby school and orphanage, which White Pearl is supporting in-kind while putting together a real plan to provide real and sustainable ongoing support to provide benefit to the surrounding community beyond the service and construction jobs they already do.
While the project is just getting underway, and the current conditions of the school and orphanage are far from ideal, the connection reminded us that even a 5-star luxury resort can't pretend its immune from it's local environment, and we felt encouraged that the resort has a social conscience to match its ambition to be the top resort in southern Africa.
Another group of hotels that's helping put Mozambique on the tourist map is Rani Resorts. Owner of the Pemba Beach Resort Hotel, Lugenda Wilderness Camp, and Medjumbe Private Island Hotel, among others. After spending time in the far south of the country at White Pearl, we flew clear across the (large) country to the far north, landing in Pemba on a hot, cloudless October afternoon. Then, after a night in Pemba, we caught a local prop flight to Niassa Reserve, a massive protected area the size of Switzerland hard up against the Tanzania border.
Alone on the 10-seat Caravan prop, we watched out the window as virtually all evidence of human habitation melted away as we flew away from the coast. Flying east, large, rocky outcrops began to appear — these "inselbergs" are a signature feature of Niassa and added a dose of scenic beauty to the parched landscape. After our landing on a dirt strip, the staff drove us the short distance to the camp, taking advantage of the cool, wet towels they provided to wipe away the grime.
Niassa is an ongoing experiment in whether a poor post-war country can start to build a wildlife-based tourism economy in the midst of severe poaching, population pressures from 40,000 people living in the reserve, and the challenges of remoteness. Based on our experience at Lugenda, we're cautiously optimistic. Lugenda is the only photographic safari lodge in the entire reserve (there are some hunting concessions elsewhere), and the true value of a trip there is to experience the silence, the emptiness, the aloneness, that comes with being off the tourism radar.
True to their wild nature, the animals are skittish around a Land Rover, and you won't find lions or buffalo lounging lazily by the side of the road as five or ten safari vehicles crowd around and take turns getting the best angle. Instead, you'll see them scampering through the forest or grazing at a cautious distance, knowing that you're sacrificing some of the Kruger Park-style slickness of production experience for a more rustic and authentic encounter.
Likewise, visitors who come hoping for a 5-star luxury lodge with all the trimmings, world-class food and facilities, stylish rooms, and huge cocktail spreads at sundowners will be destined for disappointment — Lugenda doesn't try to compete with top lodges in other safari destinations on these scores. Instead, the place will appeal to visitors who crave authenticity and uniqueness in an age of experience convergence, and in a place that even the guidebooks have next to no information about.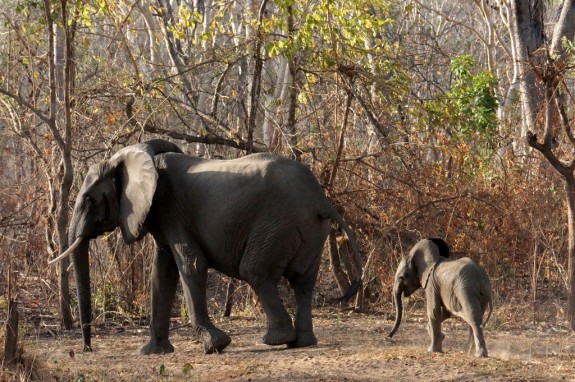 Near the tail end of the dry season, the heat in Niassa was intense, and many animals were clearly scrounging for anything that was available to eat. Our guide Nick, a hard-bitten but incredibly knowledgeable Afrikaaner from outside Kruger, was intimately familiar with all the mega- and micro-fauna we came across over three days.
In an area as massive as Niassa, part of what made the experience so rewarding was not just the many elephant and buffalo encounters, but learning about the more unheralded animals we saw, like civets (a nocturnal hunting mammal), bush babies (very small primates), bushy-tailed mongooses, sable antelope (gorgeous scimitar-shaped horns), and Taita falcons (the rarest birds of prey in Africa). And, our local spotter Jamie was uncanny in his ability to spot even the faintest movement or flashing eye, enabling us to twice get a glimpse of leopards. All the while, we never saw another truck, driving on tracks cut by the lodge and locals with machetes (Nick was never limited to the tracks, being happy to charge the truck off into the bush at any moment).
In addition, there were opportunities to get out of the vehicle, which can be especially rewarding for those who tire of long days sitting. One afternoon, we hiked up to see some amazing San Bushman rock art that was likely thousands of years old.
What a privilege it was to see this with just a few people while simultaneously gazing out from atop the hill across the limitless bush, with nary another person, or even evidence of people, in sight. Other highlights included driving ridiculously steeply up on top of several inselbergs and watching the sunset over the bush, dinner under the stars while an elephant grazed only 50 meters away, and hearing the deathly screams of a lion kill as we enjoyed gin & tonics overlooking the Lugenda River.
Our last visit in Mozambique was to Medjumbe Private Island, a stunningly beautiful spit of sand off the coast northeast of Pemba. With only 12 bungalows on the island, the resort offers perfect isolation surrounded by aquamarine water and not much else…which can be just what the doctor ordered.
The resort offers a high standard of service and accommodation, but in a relaxed way that's not over-the-top luxury, avoiding the somewhat awkward contrast some luxury properties bring to mind when setting a rustic, barefoot destination against marble bathrooms and formal dining. Many of the staff come from the surrounding areas, and their friendliness runs from bottom to top, with the manager Karen setting the tone. And, it's relatively easy to communicate in English — not always the case in Mozambique.
As a tiny white sand island surrounded by the Indian Ocean, the best things to do at Medjumbe all involve either water activities or relaxing. The diving just offshore is fantastic, and I was impressed with the variety of fish and coral (not bleached!) on the wall that drops off from 20 meters to 1000 meters only a 10-minute boat ride from the island.
Jason, the activity director and divemaster, took me on a couple private dives to the wall and nearby coral gardens. The resort also offers snorkeling, kayaks, SUPs, windsurfing, (kitesurfing — coming soon), and even a private dhow for sundown. If all that seems too taxing, you can always relax by your private plunge pool, or get a world-class facial from Joanne, the on-site massage therapist.
As with the other properties we visited in Mozambique, it was encouraging to see that, beyond the managers, all of the staff at Medjumbe was reasonably local, not imported from Europe or South Africa. As a result, guests can feel good that, while they're experiencing a level of luxury at odds with the country itself, these properties are directly contributing to local employment and the local economy, and not parachuting money in and out of the country. Local boats even sail up to sell fresh fish directly in many cases.
The tradeoff, of course, is that Mozambicans are still working to reach the standard of service expected in more advanced economies, and in many cases these resorts have to deal with daily logistical challenges that other less remote properties would never even consider—-sometimes, the fresh food on order for airborne delivery simply doesn't arrive, arrives late, or isn't available.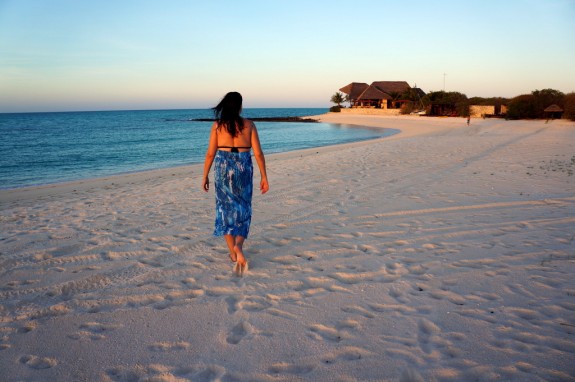 In Lugenda's or Medjumbe's case, there may be no good source for fresh lettuce for 500 miles. Nor are Mozambican cooks trained in the nuances of a perfectly poached egg, a medium rare steak, or a gooey chocolate brownie. That means that, while the natural beauty, friendliness of the staff, and relaxed nature of these properties goes a long way, every visitor should understand why these places are unique and worthwhile, and why they should go there versus a standard safari or beach holiday.
Ultimately, of course, it will be up to Mozambicans themselves (along with international investment and support) to realize the tremendous potential the country has always had. The good news for travelers is that some places like White Pearl and Rani Resorts are already doing it. Get there before it's on everybody's bucket list.
Practically Speaking
Getting to Mozambique is quite a haul, so it's worth really spending at least 10 days in the country. If you're already spending time in South Africa or Tanzania, it's possible to just visit either the north or the south in 5 days or so as an add-on. South African Airways and LAM Mozambique fly to Maputo and Pemba from Johannesburg. If you're traveling to Pemba from Jo-burg, the SAA flight is preferable as the LAM flight stops in Maputo. And, if you're uncomfortable with small planes, the itinerary reviewed above probably isn't for you.
White Pearl Resort is only 20 km north of the South African border in Ponta Mamoli, near Pont d'Oro, about a 40-minute flight by small plane south from Maputo. The resort is building a runway adjacent to the property that should open for use in 2014, which will save guests another 40-minute drive on sandy tracks to the existing airstrip. Rooms are sumptuous, set in brilliant green hillside vegetation but with mile-long views over the ocean. Temperatures are usually warm to hot, but due to the southerly location, short periods of the year may be cooler and too cool for swimming in the pool or ocean (which can sometimes be rough).
At times, diving can be excellent, with whale sharks, stingrays, whales, and dolphins cruising through the blue, with lionfish and moray eels taking up residence on the coral reefs. At other times, visibility may be reduced in rough seas or in the rainy season. Guests can book diving, ocean safaris in rubber Zodiacs, spa treatments, and a variety of other activities like visits to the elephant refuge several hours away.
Breakfast and dinner are served in the attractive dining room with large windows opening out to the ocean, or on your private room deck if you prefer. Lunch is a casual affair poolside or by the bar. White Pearl also supports a variety of local community initiatives that are worth learning about before you go or while you're visiting. The staff are incredibly gracious and accommodating.
Lugenda Wilderness Camp is a tented safari camp in Niassa Reserve and is reachable by a one-hour flight from Pemba, which Rani Resorts will arrange. Keep in mind that you're truly off the grid, and the generator only runs for a few hours each day in the morning and evening — which means that there's no power for the overhead fan in your room during the midday downtime, or at night when you're in bed.
So…be prepared to sweat through your sheets in the hottest months of October and November, when it can be uncomfortably hot. Running power when the guests are actually in their rooms, as opposed to only when they're out on game drives, would seem to be a relatively easy fix that the camp has unfortunately yet to implement but hopefully will soon.
The major advantages of visiting Lugenda are being part of an exclusive group who have ever been there, being the only tourists in a giant and wild protected area that harkens back to the days before mass tourism, and benefiting from the knowledge of guides like Nick and the eagle eyes of spotters like Jamie. When the water is high enough from April to July, canoe safaris may also be available on the Lugenda River.
The camp is closed in the peak of the wet season from late December through March. Of note, the sun goes down especially early (5 p.m.) in winter and spring at Lugenda given the fact that Mozambique is on the same time zone as South Africa, despite being further east. As a result, we ended up missing sundown for our sundowners each night and doing it in the dark. Pro tip: stay on top of the time, and request that your guide set up your gin and tonic with time to spare to enjoy the sunset from the numerous beautiful spots available in the area.
Medjumbe Private Island is accessible via a short 20-minute flight from Pemba or directly from Lugenda (if you're visiting both) on a flight that lasts about 75 minutes. According to the pilots, the 500-meter airstrip is the shortest certified runway in sub-Saharan Africa, and you'll land and take off with the wheels almost touching the breakers — the entire island is less than a kilometer long.
The resort is mostly full of honeymooners from around the world, and don't expect many North Americans. It's a laid-back kind of place, which is a huge part of its charm, but it offers plenty of indulgence too, with rooms that are attractive and bright, a nice public guest area, and private pools with each of the 12 bungalows.
The main draw of course is the crystal clear water that's almost bathtub-warm in spots, spectacular diving, and the chance to truly feel like a castaway for a few days, albeit with plenty of food, drink, and air conditioning. The cuisine is solid if not spectacular given the remoteness, and the staff are fantastic. Your bungalow will be right on the sand, and just steps from the ocean at high tide, but it can be a 10-15 minute walk to the water's edge at low tide (though it's perfectly pleasant to wander across the brilliant white sand).
When in transit to or from Lugenda or Medjumbe, you'll typically need to spend at least one night in Pemba. It's easy to book the Pemba Beach Hotel through Rani Resorts, and the property has a large number of brand new rooms and apartments that offer a haven of comfort and safety in the rough and tumble of Pemba. The breakfast buffet is impressive to boot, and the property is rapidly expanding its facilities with multiple swimming pools, tennis courts, a gym, and a revamped restaurant.
Article and photos by Josh Steinitz, originally written for NileGuide